During our national Light Up Red campaign, we invite buildings large and small to 'Light Up Red' in support of the Scottish Poppy Appeal.
Each year our Light Up Red campaign raises awareness of the Scottish Poppy Appeal and this year - as we recover from the massive impact COVID had on our ability to run street collections in 2020 - the campaign will need to raise more awareness than ever before. And to do that we need to light up more spots than ever before. That's where your community, your business or your organisation can join in.
Lighting up can also provide a message of hope and togetherness. Something we need now, more than ever.
Dates
You can light up anytime during the Poppy Appeal, from 22nd October – 14th November 2021. See our FAQs below for full date details.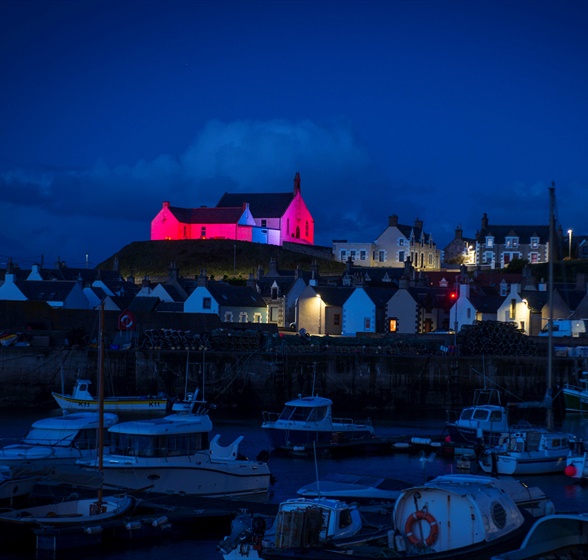 Any building or structure can take part
All you need is existing lighting. We've had castles, cathedrals, museums, bridges, racecourses, schools, churches, lighthouses, fountains, ships… and even a telephone box join in!
See FAQs below for more details.
What are the 2021 Light Up Red dates?
You can light up anytime during the Poppy Appeal, from 22nd October – 14th November 2021.

CORE: covering the week building up to Remembrance Weekend and Armistice Day
Fri 5th – Sun 14th Nov

CONDENSED: focusing on Armistice Day and Remembrance Weekend
Thu 11th Nov – Sun 14th Nov

EXTENDED: for those able to light up for the entire Poppy Appeal
Fri 22nd Oct – Sun 14th Nov

What do you need to do to light up red for the first time?
If you have a building with external lighting, you can take part!
You will need red filter gels to place over existing flood lights or uplights. These are inexpensive and easy to use. They can be purchased from online retailers or via specialised lighting websites either as individual sheets or as rolls of film that you cut to size. You simply place the gels over your existing lighting. Filters can also be used year after year.
Any structure is welcome; in the past we've had castles, cathedrals, museums, bridges, racecourses, hotels, cranes, golf courses, airports, fountains, a yacht… and even a phone box!
Don't forget to get in touch so we can add you to our map or participating locations.

2021 interactive map
We are looking to get our interactive map of participating locations up and running by the end of October, so people will be able to look and see which locations near them are lighting up.
If you are lighting up, please don't forget to send us your dates and an image of your building/structure illuminated. We can then add you to our 2021 map.
Scroll to the bottom of the page to see our 2020 map.
How do we tag you on social media?
Social media is a fantastic way to share images and show your support for the campaign. Please tag us in using @poppyscotland and include the hashtags #LightUpRed2021 #ScottishPoppyAppeal and #BehindThemAlways.

Sign up now!

And don't forget to share your building or structure all lit up on social media using the hashtags #LightUpRed2021 and #ScottishPoppyAppeal.
2020 Light Up Red locations
See who took part last year, using our interactive map below.
Click on the poppies to reveal more information on each location and the dates they lit up.
As the 2021 Poppy Appeal approaches, we will show the locations who will be taking part this year. Watch this space!
Donate to the Scottish Poppy Appeal
Your donations are vital in making sure we can continue to provide support and assistance to the Armed Forces community.
Donate now