We've teamed up with Scotland's best known military band for a nationwide concert tour in 2022.
The Band of the Royal Regiment of Scotland (RRS) will perform folk music inspired from across Scotland, from Burns Country and the Western Isles, to the Highlands down through the East of Scotland and the Scottish Borders. The tour is a collaboration with renowned folk musician and songwriter Alan Brydon. All proceeds from the concert will raise vital funds to help us provide life-changing support for members of the Armed Forces community across Scotland.
2022 tour dates
Hamilton – Fri 2 Sept
Livingston - Fri 30 Sept
Montrose- Fri 21 Oct
Bankfoot, Perthshire – Fri 4 Nov
Hawick – Thurs 15 Dec
Doors; 19:00, Performance Starts; 19:30, Performance ends; 22:00.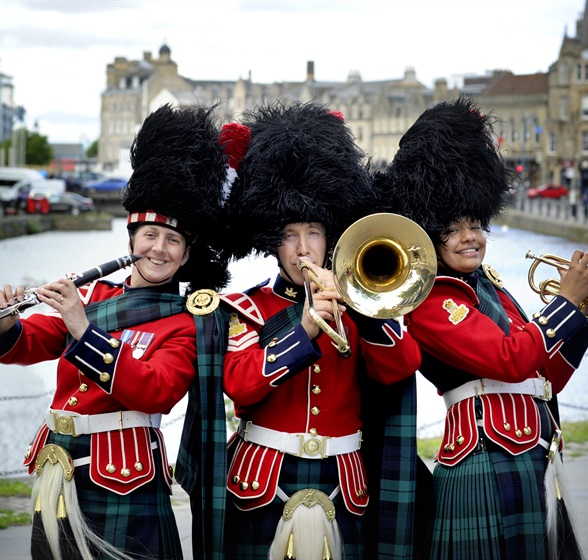 Ticket information
Full price - £15; Concession - £12
Tickets will go on sale late spring 2022. To register your interest, please email events@poppyscotland.org.uk and we'll let you know when ticket sales are live.
Meet 'The Band'
The Band is one of the 22 Regular Army bands and is based at Dreghorn Barracks, Edinburgh. It comprises 45 talented musicians who are also serving soldiers and it is a symphonic wind band with the additional capability of a Ceilidh band.
The main role of the band is to support the Army, the State and Ceremonial occasions that occur within Scotland.

2018 Walking with Heroes tour video
A throwback to our very first collaboration with The Band of the Royal Regiment of Scotland, watch the video below showing preparations for the 'Walking with Heroes' tour in 2018.