Celebrate the amazing achievements of Captain Tom in a special fundraising event
Friday 30 April 2021 would have been Captain Sir Tom Moore's 101st birthday and the one-year anniversary of his famous 100 laps of his garden that raised nearly £40 million for the NHS.
Last year Captain Tom united the Nation, giving hope when it was needed most. This year we will celebrate Captain Tom's generosity of spirit, the hope and joy he brought to millions, and his sense of fun with the Captain Tom 100 event.

What is the Captain Tom 100 event?
Everyone – all ages and abilities – is invited to take on a challenge around the number 100. It could be:
Scoring 100 goals
Baking 100 cakes
Cycling 100 miles
Hopping 100 laps of the garden
Building 100 sandcastles
Writing a 100 word poem
Flipping 100 pancakes
Anything at all, inside or outside. You choose.
Sign up NOW!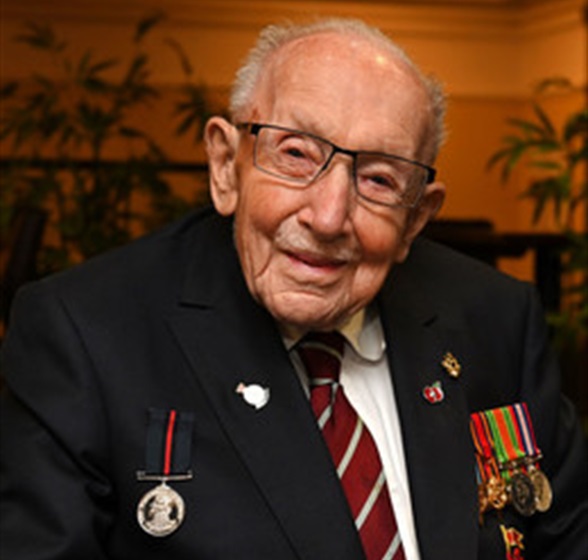 When is it happening?
You can take part anytime and anywhere in 2021. Originally designed to take place over Captain Tom's birthday weekend, Fri 30th April – Mon 3rd May, we've extended the timings to allow you to fundraise all year long in honour of Captain Tom.
Together we can ensure Captain Tom's legacy lives on by raising vital funds for our Armed Forces community.
Take on the #CaptainTom100 Challenge!
What do you need to do?
It's so simple. All you need to do is:
Think up your Captain Tom 100
Fundraise or donate to Poppyscotland
Share your 100 on social media using #CaptainTom100
Donate now