Thanks to our partners, Fred. Olsen Renewables, every penny of registration and fundraising comes to us!
Price: £35 (no price increase in 8 years)
Entry Includes:
· Choice of three routes
· Electronic timing
· Mechanical support
· Food and water stations
· Coffee available before you start
· Tea and toast at the finish
· King and Queen of The Heugh timed climb
· Sweeper service
· Finishers gift – water bottle
We've listened to your feedback and some of you really wanted a medal, so this year we are giving you the option of purchasing one at the same time you register.
100% of your registration fee goes to Poppyscotland to help us support members of the Armed Forces community and their families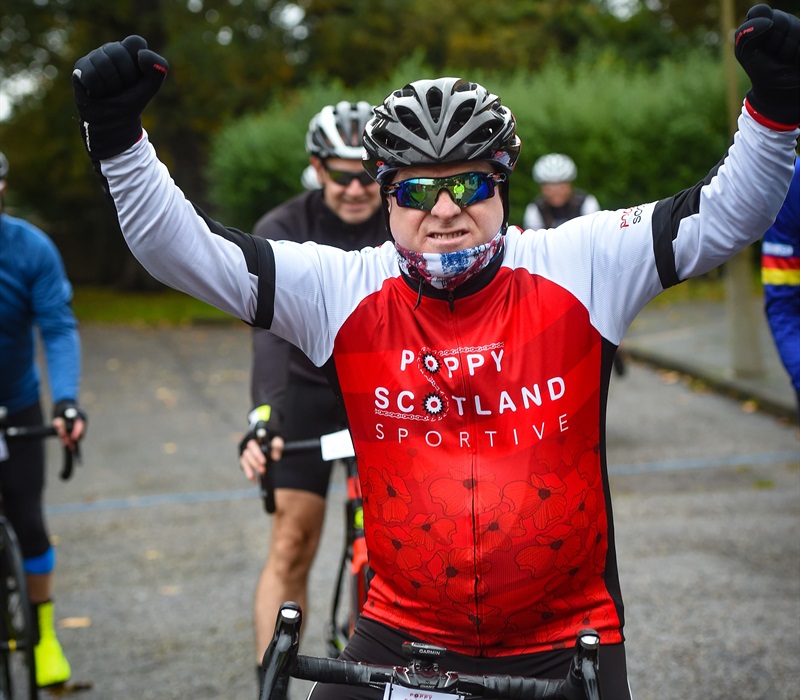 This was brilliant! My first event and felt part of the community of Poppyscotland as well as the cyclists, which kept me going to a good result
DATES AND TIMES: Sunday 26th September 2021
Start times:
| | |
| --- | --- |
| Long Route | Between 07:30hrs & 08:00hrs |
| Middle Route | Between 08:00hrs & 09:00hrs |
| Short Route | Between 08:00hrs & 09:00hrs |
PLEASE NOTE – all riders must start by 09.00am – we can't let any riders start after this time.
Time to complete the course:
Our sweep convoy will follow cyclists along all 3 routes route at a fixed speed of 10 mph for the short and medium and 13 mph for the long
| | |
| --- | --- |
| Short route | 5 hours to complete finished 14:00 at latest |
| Medium route | 7.5 hours to complete finished 16:30 at latest |
| Long route | 8.5 hours to complete finished 16:30 at latest |
This includes 30 mins built in for stops.
Once the last wave of cyclists has left the start, our sweep convoy will follow cyclists along all 3 routes route at a fixed speed of 10 mph for the short and medium and 13 mph for the long.
Cyclists who fail to maintain this minimum average speed and are therefore overtaken by the sweep car are out of the ride. In this instance, cyclists will be asked to submit their timing chip to the sweep staff before continuing. This acts as an acknowledgement that they are no longer part of the event, and that the event infrastructure such as medical support and feed stations will no longer be available to them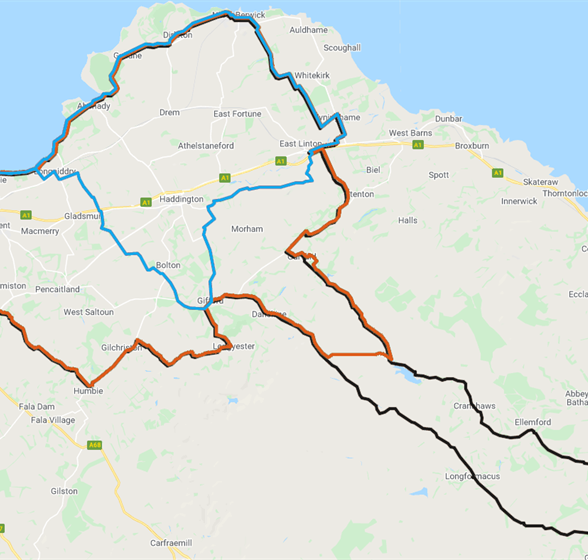 ROUTES:
SAME ROUTES AS 2019. Three different routes provide a real challenge for riders of all abilities.
Routes are available in downloadable GPX format or Garmin Connect.
For more information on the routes, please click here.
Changing routes last minute: if you feel like changing your route on the day, that is no problem, just ask at registration.
COMMUNICATION BLACK SPOTS: There are areas south of Garvald and into the Lammermuir hills and Scottish Borders where radio and mobile phone cover is poor. Riders should be aware of this and are advised to carry a fully charged mobile phone. We will have regular motorcycle marshals patrolling these areas.
In particular please be aware of the following:
Hard right turn onto B6355 – slow down and take care! (Middle)
Redstone Rigg descent: slow down (Middle and Long)
Fast descent into Gifford & in town: slow down (Long and middle routes only)
Cousland road surface, take care! (All routes)
BECOME KING OR QUEEN OF THE HEUGH
15 miles in, all three routes tackle 'The Heugh' climb. Just past North Berwick there's a short, sharp climb. You will gain just under 100ft in 0.2 of a mile. Your time for the climb will be automatically recorded and we will award a prize for the King or Queen of The Heugh.
Will you have the energy to go for it?
REGISTRATION:

You will be able to register, pick up your rider number and timings chip at the following times:

| | |
| --- | --- |
| Saturday 25/09/21 | from 14.00hrs until 18:00hrs |
| Sunday 26/09/21 | from 07:00hrs until 08:30hrs |

At registration you will be given:
Your bike number with your timing chip attached to the back
Cable ties to attach it to your bike
Your cycling jersey if you have raised £100+ in sponsorship or purchased one but not received it

Your timing chip is attached to the back of your bike number. All you need to do is fix your bike number to the front of your bike. Doing this will give you an accurate reading for completing the full Poppyscotland Sportive course distance that you have selected.

TOILETS:

There are toilet facilities at the start/ finish venue, as well as at all feed stations

MEDICAL FORM:


All participants must complete a medical form and hand it in at registration.

To save time, please bring the completed form with you when you register, or forms will be available on the day.

LOCATION:

Registration is situated at Prestonpans Community Centre which is also where our event starts.

Prestonpans Community Centre
Preston Road
Prestonpans
EH32 9QS

PARKING:

Parking is available in:

Preston Lodge High School – 1 min cycle to start of race
Wallyford park and ride – 11 min cycle to start
Existing on street parking in Prestonpans

*Please note, Prestonpans Community Centre and Prestonpans Group practice medical centre car parks will be closed on event day.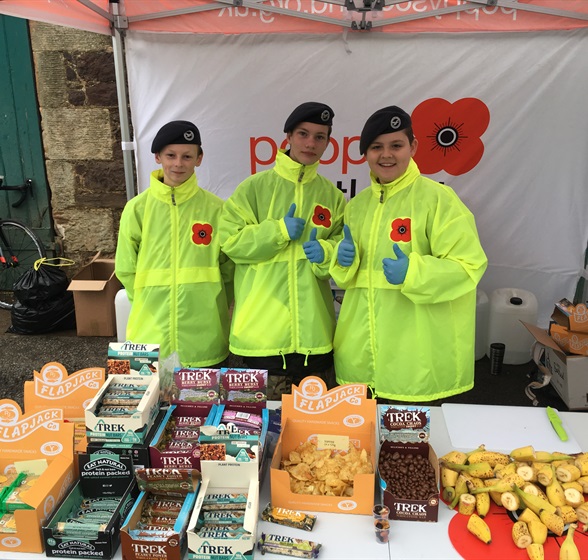 FEEDING STATIONS:

Each of our stunning routes has 2 feeding stations (long route has 3). Water is also provided at these stops for refilling and refuelling.

There are toilet facilities at all feed stations.

Feed stations are at:
Feed Station 1 – all routes – East Linton
Feed Station 2 – long route only – Duns
Feed Station 3 – all routes – Gifford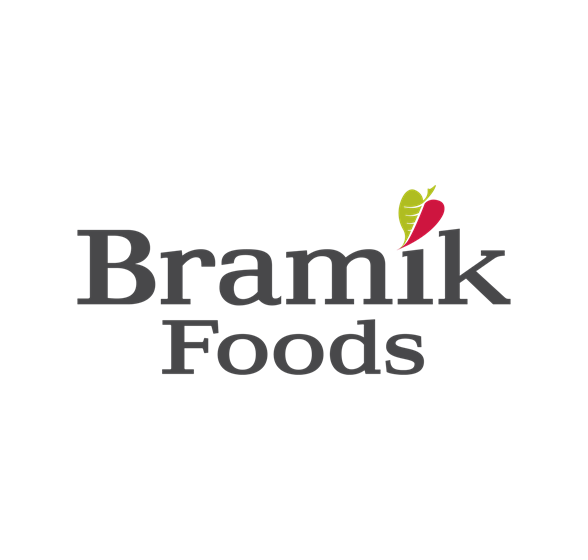 Poppyscotland Sportive sponsors
Bramik Foods
, who provide the food at all three feeding stations, are offering a
20% discount for Sportive riders
– just use the promo code
SPORTIVE2021
when ordering online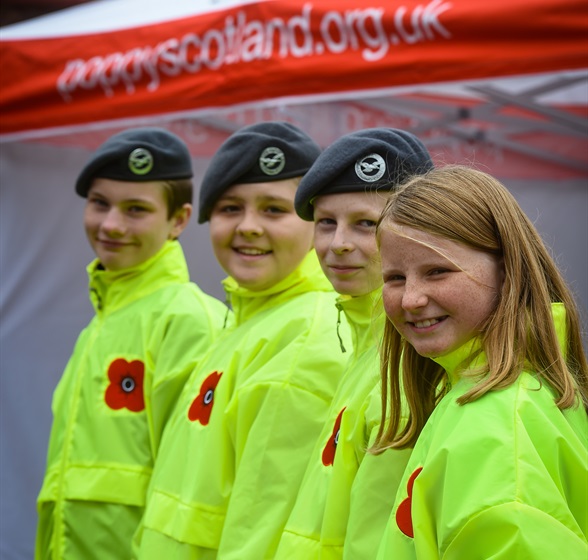 TEA AND TOAST:

The community centre cafe will be open before and after the event for light refreshments – tea, coffee and toast – for a donation of course!

STARBUCKS COFFEE:

We are very grateful to Starbucks Fort Kinnaird who will come and provide coffee to all our riders before the event – for a donation! Starbucks have been supporting the Poppy Sportive for many years, serving coffee from 7am to wake up our riders!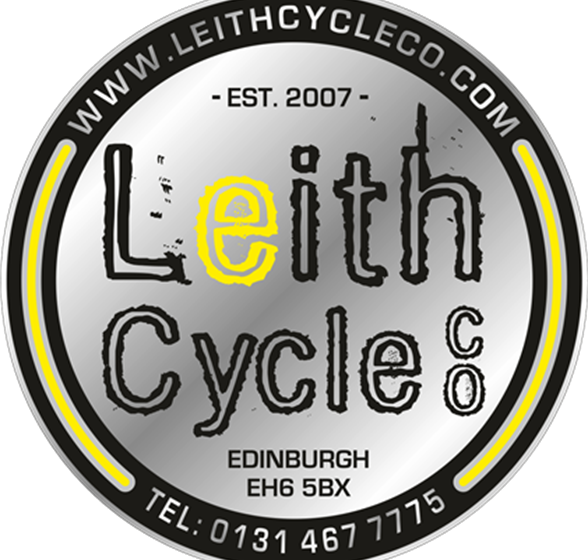 BIKE REPARS AND MECHANICAL SUPPORT:
Please make sure your bike is serviced and road ready before the big day itself!

Any last minute bike repairs will be ably attended to by our friends at Leith Cycle Co, who will be at Prestonpans Community centre from 7am. These angels on wheels also provide our mechanical service, available at each feed station.

Any registered Sportive participant can get 10% off a bike service at Leith Cycle Co on Leith Walk, Edinburgh – just show your 'confirmation of registration' email in the shop for your discount.
ROAD SAFETY AND RULES OF THE ROAD:

We've done everything we can to make this event as safe as possible. Riders take part at their own risk and must stick to the rules of the road at all times.

Medical info: it is critical that you put your rider number on your bike and keep it there. This is to ensure that we access the correct medical information for you to assist first aiders in any treatment that you might require. PLEASE DO NOT SWAP RIDER NUMBERS.

Helmets: you won't be allowed to take part unless you wear a helmet
Mobiles: please make sure your mobile is fully charged the night before the event. There is a small section of our course with no mobile signal but we have a strategy to respond to issues there
Reflective clothing: Our event takes place in daylight but please do ensure that you have some form of reflective clothing as it's also vital to be seen in poor light

This is an OPEN ROAD event: Please take note of the highway code for cyclists:

Don't ride more than 2 a-breast
You are not permitted to cycle on the pavement
You may not cross the stop line when traffic lights are red
Be considerate to other road users… be aware of traffic coming up behind you. For this reason never cycle with headphones in.

Riding in groups: Our hope is that we start early enough to avoid the worst of the traffic, however it's really important that you are comfortable sharing the road with other road users.

Please note you should always cycle in single file on narrow roads and when cycling round bends. Ensure you leave space between you and the cyclist in front to allow overtaking in these areas.
Please take note where you see a sign stating 'slow down' or notifying of a hazard.
Not all the roads you cycle on today are in perfect condition.
Watch out for potholes, rutted patches, gravel and tree debris on the roads and make sure you safely negotiate them.

There will be a number of medics available on the day for minor injuries.

One will be stationed at East Linton feed station
One will be stationed at Gifford feed station
One will be based at Prestonpans community centre

If you have an accident or witness anything serious happening, please immediately dial 999. Our medics are for minor injuries only. In the case of an emergency, the usual rules apply and riders must contact emergency services.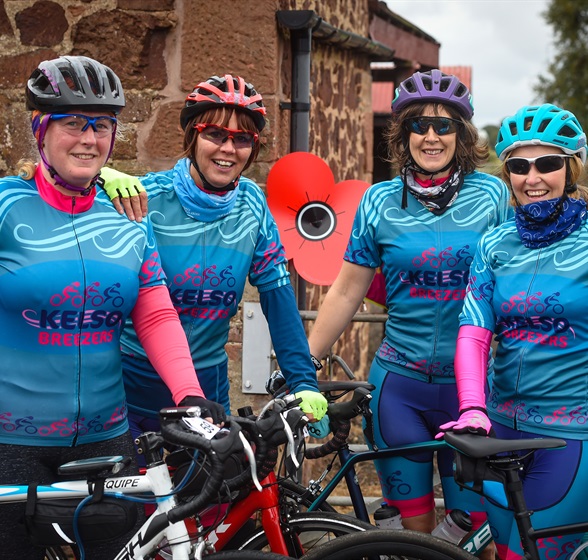 TIMINGS:

Our timings service will text your time straight to your phone.

We also have a full breakdown of each rider's time, including the timed hill climb, via the links below.

Congratulations to the winners of the timed climb! Our King and Queen of the Heugh for 2019 were:

Calum Deans: 38 seconds

Nadine Reilly: 59 seconds



Sportive 2019 Full Results