Falklands: distracting Argentinian forces from Mt Tumbledown
Les Braby had served in the Scots Guards for 20 years, including in Malaya, Borneo, and Northern Ireland, when he was sent to the Falklands.
He led men in a diversionary attack in the final days of the conflict, distracting Argentinian forces from the main assault on Mount Tumbledown.
As one of three sons of a First World War veteran, going into the Army was a natural choice for Les Braby.
Born in Edinburgh in 1942, he remembers his father talking about his experiences, including how he was badly wounded in battle, while the Second World War and its aftermath shaped his early childhood.
Les said: "My earliest memories are of the war. Everybody you saw was in uniform – it was just one of those things. Everybody wanted to do their bit. Then food rationing went on until the early 1950s and conscription right up to 1961."
Les planned to follow in the footsteps of his two older brothers, George and Adam, and join up after leaving school. Although he should have been called up for National Service, he wasn't because so many people had been deferred. Instead, he joined the Territorial Army and then enlisted in the Scots Guards in 1962.
He remembers being sent to Pirbright, Surrey for training: "It wasn't what I expected. It was really hard and at first and thought I couldn't do it. But just gritted my teeth and stuck with it."
As part of Right Flank of the 1st Battalion of the Regiment, Les's first posting in 1963 included public duties at Buckingham Palace, the Tower of London and St James' Palace, "all kitted out in tunics and bearskins".
In September 1964, he was posted to Malaya, where he looked for Communist terrorists on the border with Thailand and fought in the Borneo jungle. He had married Eleanor, his childhood sweetheart, who accompanied him, staying with other wives at their quarters in Malaya.
Over the next decade and a half, Les's varied career took him on tour to Canada, youth training in the Lake District, and three tours of Northern Ireland. As the Troubles began, he carried out tours there, patrolling streets in "no-go" areas near Londonderry and Belfast. He learned to do the "Belfast walk" – walking with a rifle and turning his body at the same time to protect himself from the threat of snipers.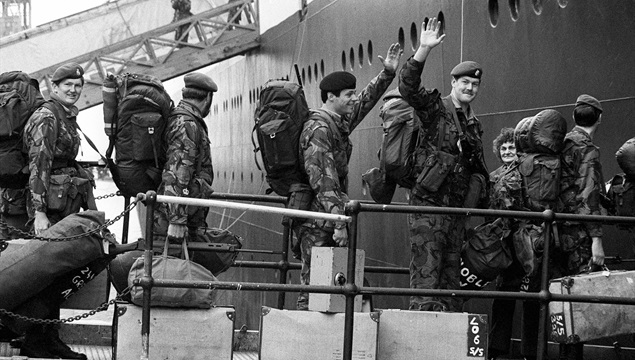 Sent to the South Atlantic
In 1982, Les was posted back to the 2nd Battalion as Company Sergeant Major of Headquarter Company at Chelsea Barracks.
He said: "We knew that the Falklands crisis was going on, but the order just came out of the blue in April. We had been part of the back-up brigade on standby, ready to deploy if needed. Then we got word we would be part of 5 Brigade, with the Welsh Guards and the Gurkhas."
After training in Wales, they embarked from Southampton on the QE2 on the 12th May.
Headquarter Company's initial role was to ensure that the troops on the frontline received all the supplies they needed. They first landed in San Carlos Bay, but shortly afterwards were ordered to transfer to Bluff Cove by ship.
As part of 'A' Echelon, their duties included unloading supplies from landing crafts under cover of darkness. They were based in a small inlet there when Sir Galahad and Sir Tristram were bombed on June 8th, with the loss of 56 British lives.
Les said: "I heard them being bombed, and then we just saw the smoke billowing up from the ships. There was nothing we could have done. It was only a few days later when we heard how many casualties there had been."
Diversionary attack
In June 1982, Les was briefed that elements of Headquarter Company would take part in a diversionary attack, aiming to engage Argentinian forces and distract them from the main assault on Mount Tumbledown.
He said: "The plan was to make the Argentinian forces think we were coming from a different direction to that which was planned. Of course, we did a reconnaissance prior to this to check their layout and position.
"We set off at the appointed time, but as we advanced, the leading Scorpion (armoured reconnaissance vehicle) hit a mine which blew off one of the tracks among other damage while negotiating a big hole the Argentinians had blown in the road so tanks couldn't pass. That put paid to the tank support, so we continued without them.
"There were three assault groups tasked with taking out the enemy sangers (trenches). I led the support group, consisting of three GPMG (General Purpose Machine Guns), and we were there to give covering fire when required.
"As we approached the enemy position the assault groups moved forward and the support group moved right to get on their position to give the covering fire.
"It was about 1am, very dark. Then the Argentinians saw us and started firing at us. You heard a crack and a thump – the crack as the bullet went over your head, breaking the sound barrier, and then the thump was the sound of the fire that comes after.
"We got ourselves in position and started returning the fire. After a lull in the attack, the Company Commander shouted at me to take the support group forward to assist in the assault. As we were running across the open ground, the enemy opened fire and hit the man on my right just a few feet away from me. We went to ground and gave him first aid, then lifted him up and carried him with us.
"After a bit of time, I managed to get a gun in the end enemy sanger and enfilade the enemy position from the side. Eventually they withdrew.
"We then found out that the assault groups had taken casualties. Two dead and six wounded. One of the dead was D'Sgt Wight (Danny), a very good friend of mine and the other was a young Cpl Pashley, a Royal Engineer who was attached to us.
"Once everything went quiet, we could hear the main battle starting in Tumbledown. So, job done, we had to get everyone out. Some of the men gave covering fire where necessary, while the others helped the wounded to withdraw to our main position and starting point.
"On the way back, carrying our wounded and dead, we unfortunately walked into a minefield and suffered more casualties. At this point the enemy started shelling us again, so we decided to just get the wounded out as fast as possible and leave the dead. Some casualties were walking wounded and we carried the others.
"It was very boggy, and we could hear the enemy shells landing with a slurp around us. We just had to keep going, looking for mines using torches.
"On the way out, I met the Welsh Guards advance group going in to take Mount William. I briefed them about the minefield and the enemy positions.
"Eventually we got back to the start-up point. The first job was to get the casualties seen to at the Regimental Aid Post. Then everyone went for a well-earned sleep. I went on the radio and gave a full report to Battalion HQ.
"It was still early in the morning, about 3 or 4 am. By this time the Battle of Tumbledown was going strong. I could hear the gunfire and it went on all night. I got back into my sleeping bag and 'bivvied up'.
"In the morning, the message came over the radio that the Argentinians had surrendered. It felt great, absolutely great. It was a huge relief."
Reflecting on the night he said: "Of course I was frightened – it was natural - but in a situation like that, your training takes over. You automatically do what you're taught, and I just offered up a prayer to my God."

After the ceasefire
Afterwards, the wounded were evacuated to the Uganda hospital ship, while the others went back to Mount Harriet to re-join the battalion. From there they moved to Fitzroy and then St Edmund Ferry for a period of rest, before returning home.
Les said: "The hardest part was knowing people who had died. It's always a shock, particularly if they were close friends. Danny Wight and I went through Guards Depot together, and it was hard to come to terms with losing him.
"I was lucky because I'd been a soldier most of my life and was 40 at the time of the Falklands. I'd seen service in Malaya, Borneo, and Northern Ireland, and was no stranger to unsightly scenes. I was used to seeing dead bodies when working in the Casualty Department in Malaya, then I had seen other atrocities in Northern Ireland.
"It was completely different for a young 18- or 19-year-old in battle for the first time. I can understand why they felt more stressed afterwards. For a youngster, seeing a friend killed or injured would be more of a shock to their system."
Les returned to Chelsea Barracks and continued carrying out public duties at the Royal Palaces in London. In 1983 he was appointed RQMS (Regimental Quartermaster) at Regimental Headquarters, ending his service in September 1985.