Our volunteers are the lifeblood of Poppyscotland. Their support collecting for the Scottish Poppy Appeal means we can make a life-changing difference to our Armed Forces community. But we need more volunteers. We need you.
You'll be joining a team that covers every city, every town and every village in Scotland. A team that helps us pin over two million poppies onto Scotland's coats, jackets and jumpers. And by putting a Scottish Poppy Appeal tin in your hand, we can raise up to 50 times more.
Whether you have only a few hours, a few days or more, every penny you are able to raise will help fund our vital services. An extra hour could boost your collection by 6% and if this was replicated across the country that could see an extra £150,000 raised.
As well as collectors we also need Scottish Poppy Appeal Area Organisers. These individuals are also volunteers but take responsibility for coordinating the Appeal in their area, ensuring that poppies are available throughout the campaign.
Volunteer today
Make a huge difference to the lives of those in need in the Armed Forces community, and make a difference to your own life too.
If you're interested in volunteering, fill in our form, and we will be in touch to discuss the volunteering opportunities in your area.
Apply online
What volunteering opportunities do you have?
Please get in touch to find out about vacant areas for Scottish Poppy Appeal Area Organisers by
clicking here
. However, most of our volunteering opportunities are for collectors who are essential to our work and are needed in almost every area of Scotland.
I'm up for volunteering! What's the next step?
Apply online
Please fill in our online volunteer application form here.
Read our Poppyscotland Volunteer Pack, this includes more information on volunteering for us and an application form. You should return the application form to us as quickly as possible.
Get in touch
If you have any questions, please get in touch with Ian Jackson, our Volunteer Development Officer
Call 07458 003 529
Email volunteer@poppyscotland.org.uk.
Once this has been processed we will put you in touch with your local Scottish Poppy Appeal Area Organiser.
How old must I be to volunteer?
You can volunteer with us if you are aged 14 and over. However, those aged 14 to 18 will have to ask a parent or carer to complete the application form on their behalf and act as the main contact.
How much time will I need to invest in volunteering?
The simple answer is as much as you can! Whether it's a few hours, a few days or more, every penny you are able to raise will help fund our vital services.
How do I find out more?
We have an in-depth Volunteering FAQ (in PDF format) as well as Volunteer Charter which goes into considerable detail about volunteering. Visit our Volunteer Library to find out more.
Alternatively, we are happy to chat through any queries you may have. Please use the contact details at the top of the page to get in touch.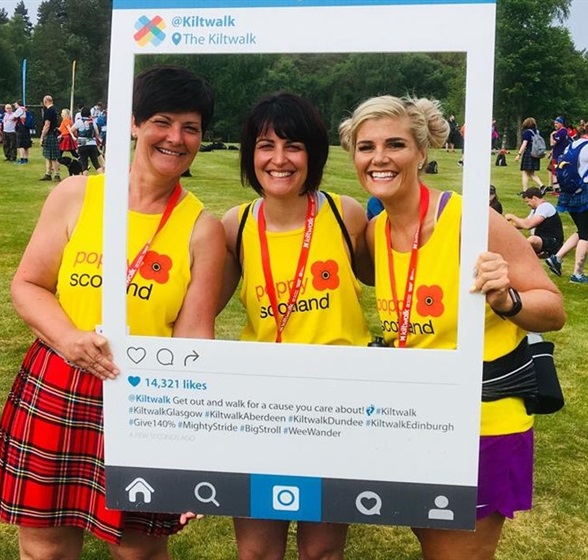 Volunteering outside the Poppy Appeal
Do you have a passion to help others and make a difference in your community? We're looking for positive, sociable people to work with us to deliver fundraising events in your local area.
Find out more