Where the money goes
The donations we receive during the Poppy Appeal are used to provide life-changing support to members of our Armed Forces community.
From advice to employment support, we are here to provide a helping hand to those who have served, still serving and their families.
Find out more
Virtual Field of Remembrance
Our Gardens of Remembrance have opened in Edinburgh, Glasgow and Inverness. If you can't make it there in person, why not visit our Virtual Field of Remembrance to remember and honour the fallen by leaving a message on your chosen tribute type.
Visit our Virtual Field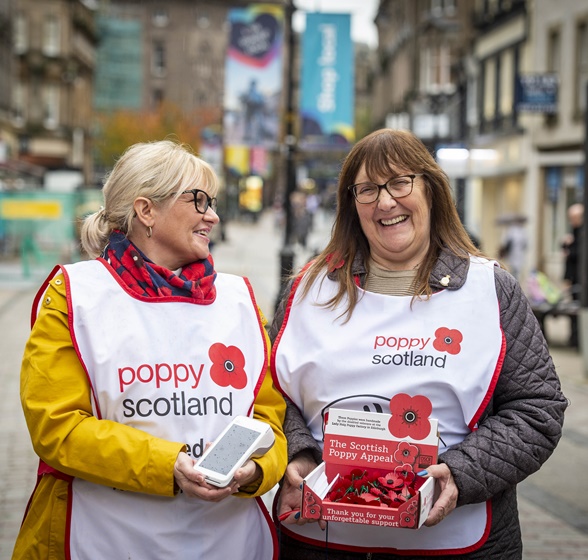 We need you!
We don't just need help during the Scottish Poppy Appeal, we need volunteers all year round.
Whether it's spending an hour or two volunteering at a fundraising event or taking on the role of an Area Organiser, we have volunteering opportunities to suit everyone.
Volunteer today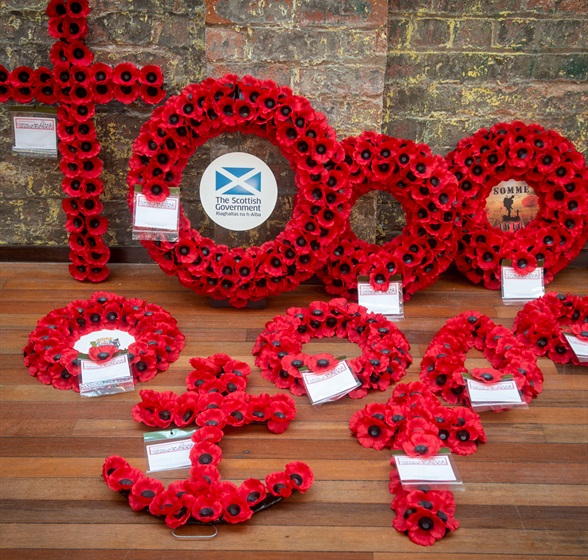 Buy a wreath
Lady Haig's Poppy Factory
wreaths are produced from individual poppies that are made by hand. Order online from a wide selection including simple wreaths, badged wreaths and special edition anniversary wreaths.
Visit the wreath shop
FREE learning resources
Whether you are a teacher, youth group leader or parent, we have a wealth of resources to help children learn more about remembrance, the poppy and it's legacy.
Resources are FREE to download and suitable for all CfE levels.
Find resources
Our team is a phone call away
If you need Welfare support, call us on 0131 550 1557. 8am to 8pm, 7 days a week, or to email, Click Here.
If your query is in relation to the Scottish Poppy Appeal, please call 0131 557 2782
Get help now
Supporting our veterans
"I couldn't afford the deposit for the rents for new places. I lost all my possessions and my pictures. I couldn't go to my family; they were scared to talk to me. It was the lowest time of my life. I thought to myself: 'You've served your country, you come home and no-one seems to give a damn about you.'" - Donald
Read Donald's story