The President's Award is our highest honour, recognising exceptional volunteering services to the charity. In 2019, we were delighted to present the President's Award to these six outstanding volunteers.
Poppyscotland President Sir Alistair Irwin presented two awards at the Inverness Town House and three awards at the Scottish Parliament with our Chief Executive at the time, Mark Bibby, presenting one award at our first ever event at Dean Castle Country Park in Kilmarnock.
Read more about two of our award winners below.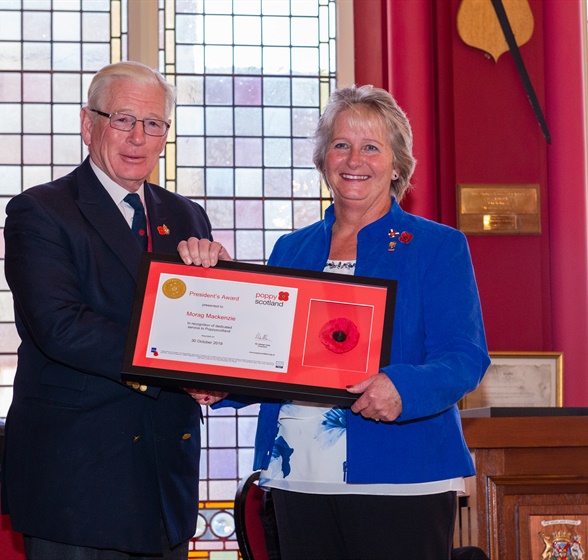 Mrs Morag Mackenzie – Collector – Duirinish Area
Morag has been collecting in support of the Scottish Poppy Appeal for more than 50 years. She covers a wide range of remote areas with door-to-door collections, consistently raising some of the highest amounts in the area and has dedicated her time in support of Poppyscotland every year, come rain or shine.Morag has served on the community council for more than 40 years and is the epitome of an active figurehead in the area. She influences community decisions and promotes Poppyscotland positively through her interactions.Despite suffering some health issues in 2019, Morag was back out on the streets collecting during this year's, her 51st, Poppy Appeal.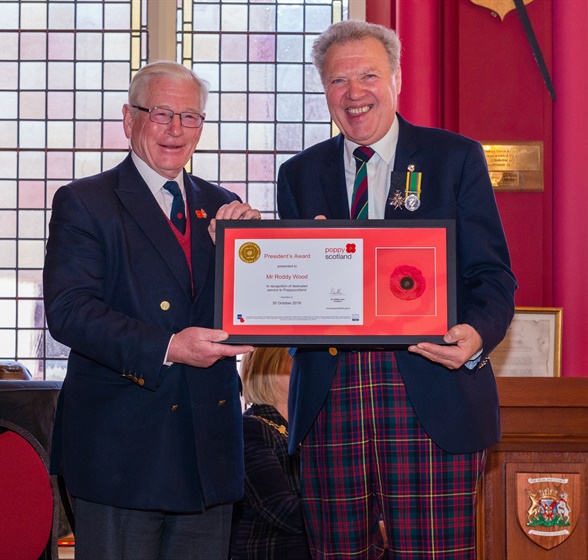 Mr Roddie Wood – Area Organiser – Inverness and Surrounding Areas
Roddy has been integral as Poppy Appeal Area Organiser for Inverness and Ardersier, raising an incredible £320,000 since he took on the volunteer role in 2013.As a regular attendee at Poppyscotland's Wednesday afternoon veterans' drop-in sessions he has been invaluable in providing support to their Poppy Pledge effort which helped them to raise more than £7,000 for Poppyscotland, in the form of advice, contacts, World War One uniforms and arranging local collections.