Growing up in Largs, Ayrshire, the sea had always been part of Kenny Duffy's life. But nothing could prepare him for serving in the Falklands with the Royal Navy, which he described as "90 per cent boredom, 10 per cent sheer terror".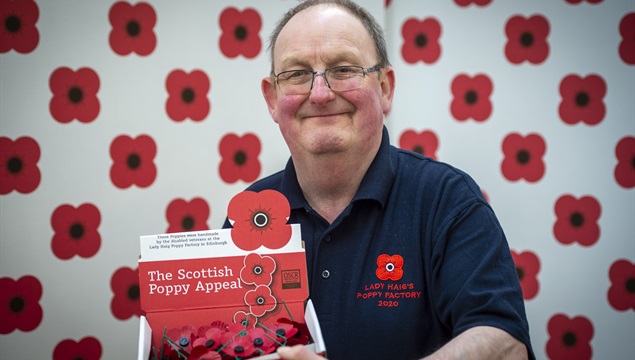 Kenny's love of the sea was partly inspired by his father, who served in the Merchant Navy. Sadly, he died of a heart attack when Kenny was a boy.
The youngest of three, Kenny's childhood ambition was always to join the Royal Navy. He signed up shortly after his 16th birthday in 1975, and was sent to Ipswich with other recruits for initial training.
He said: "I'd never left Scotland before and had no idea where Ipswich was at first. I took the overnight train, and it was full of Scots – there was a large Scottish contingent joining the Navy. It was a bit daunting for a 16-year-old, going out into the wide world for the first time. The training was difficult at first, but it was what I always wanted to do. I was very proud when I passed out, and my family all came down to see me."
Traveling the world
His first posting was as a radar plotter on HMS Dundas, an anti-submarine frigate, where his role was to plot the movement of ships and helicopters. One of his most memorable experiences was a deployment in 1980, sailing up the Yangtze River in China to lay a wreath at the point where HMS Amethyst was shot at during the Chinese Civil War.
Shortly afterwards, the ship hit a typhoon while sailing across the South China Sea. Kenny said: "I'd been in hurricanes before, but this was different and on the other side of the world. It was horrendous, very, very rough. There was a lot of sea sickness. We went to emergency stations as we hit this huge wave. It pushed the ship's locker inwards, and it ended up looking like a sieve. It was very frightening."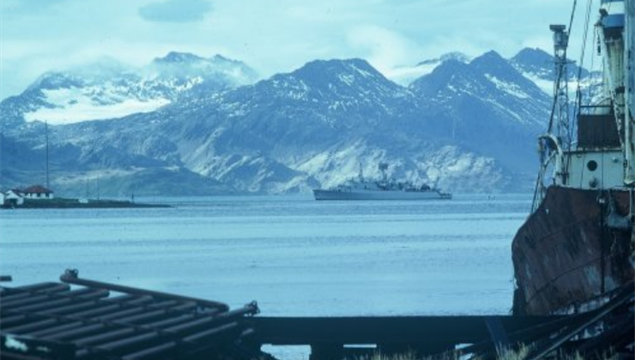 Full speed ahead to the Falklands
In 1982, Kenny was taking part in an annual naval exercise aboard HMS Antrim near the Azores. They received little news from home, so he was unaware of the growing crisis in the Falkland Islands.
It was only when the conflict was starting that they got the signal and were "dispatched at speed" to the South Atlantic as part of the naval task force. There was no time to say goodbye to his wife and two daughters, who were aged just five and six at the time.
Kenny celebrated his 23rd birthday as they sailed south. He remembers: "We were told to go and pick up the boys who had been on loan to an American destroyer, and then full speed ahead to Ascension Island. We had no idea what to expect. Nobody on the ship had been to war. I think everyone was nervous, but we just focused on training and tried to get on with it."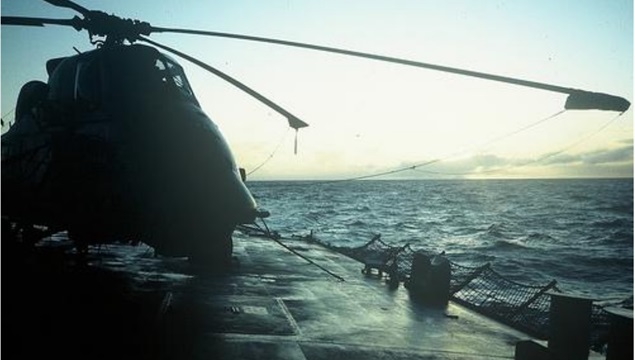 Into a warzone
HMS Antrim was one of the first ships to arrive at South Georgia with its helicopter, nicknamed "Humphrey", transporting Royal Marines and SAS onto Fortuna Glacier. Shortly afterwards, the helicopter detected an enemy submarine, the Santa Fe. They fired torpedoes and sunk it. Around 24 hours later, Argentinian forces in South Georgia surrendered. "That felt good," Kenny said. "It was a big relief to all of us."
Next, they joined other ships in the task force at San Carlos Bay. As troops were landing, Argentinian forces were launching attacks on the ships. Kenny said: "We were landing troops as we were being bombed. An aircraft dropped a 1000 lb bomb, which bounced up and hit the flight deck.
"We thought that was it. There was nothing you can do in that situation – you just hope and pray. If it had gone up, then no one would have survived. It would have been 470 lives lost. Fortunately, the bomb didn't go off – I think the plane had been too low when it dropped it. The Royal Engineering segment came on board, and we cut a hole in the flight deck, lifted the bomb up and put it over the side. Then we went to emergency stations and lay down. It just sank."
In early May, there was bad news when HMS Sheffield and HMS Coventry were hit and badly damaged by the Argentine forces. Kenny said: "We heard that the Sheffield and Coventry had been sunk. Then a couple of weeks later we saw the Antelope blown up. That's a memory that will stay with me for the rest of my life. Five people were killed. Then the Ardent broke its back, it got bombed. They managed to diffuse that bomb but there were two casualties. Nothing can prepare you for that stuff, and it certainly made us feel more vulnerable. We were lucky, we only had one serious injury who was flown to the Canberra and flown home."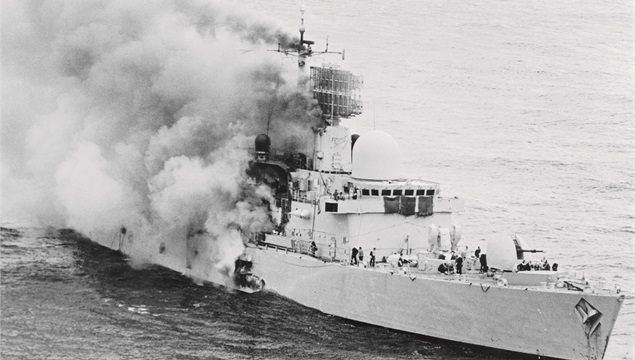 Daily life on board
Kenny managed to keep in touch with his family at home sporadically by letter. It was only afterward that he learned that a police officer had been to visit his mother to inform her that his ship had been bombed, although he was unhurt.
HMS Antrim was sent back to South Georgia for repairs following the bomb damage. They were still there on 14th June when they learned that the Argentinians had surrendered. On the same day, back in Ayrshire, Kenny's sister was celebrating her wedding.
Kenny said: "I think the best way to describe how we felt was elated. We certainly all drank a few beers that night." HMS Antrim sailed home shortly afterwards. Kenny remembers the atmosphere was very different on the return journey, with time to relax and enjoy barbecues on board. "It was good fun," he said. "Going through that experience had brought us together and I made friends for life. I was glad to be home, but it was difficult as well. It's hard for civilians to understand what we'd been through."

At the end of the day, nothing can prepare you for going to war. I remember the sheer terror – it was 90 per cent boredom and 10 per cent sheer terror. We try to block it out afterwards. Civilians don't know what it's like.
Return journey
Kenny returned to the Falklands with HMS Antrim in 1983. "We knew what to expect then," he said. "We got a very warm welcome from the Falkland islanders, and I enjoyed getting to know some of them. In some ways, the Falklands are more British than the British."
Kenny went on to serve all over the world, including Gibraltar, and Londonderry, Northern Ireland. He was based at Faslane and Rosyth in Scotland for some time, carrying out fisheries protection in the North Sea.
Civilian life
In 1990 Kenny decided to leave the Navy when his wife became ill. He took a job in security working for a brewery, and later worked for Scottish Widows and Standard Life. Later on, he became a civil servant with the Land Registry at Meadowbank House, in Edinburgh.
He said: "It was difficult to adjust - I think it's the same for everyone. Getting back into civilian life is difficult. Military life is very disciplined. Some things were completely new to me, such as trying to get a National Insurance number."
Over the years, his wife's health deteriorated, and he began to feel the strain of caring for her. Working long, overnight shifts in security added to the pressures on him and his family. He decided to leave his job and became a civil servant with the Land Registry at Meadowbank House, in Edinburgh.
But the stress finally took its toll in 2001, when he suffered five heart attacks and a stroke. He went on to have a triple bypass operation at the Golden Jubilee Hospital in Clydebank. Looking out over John Brown's Shipyard from his hospital bed brought back memories of his years in the Navy.
Kenny struggled to regain his health, and he still suffers from angina. He describes the years afterwards as a low point in his life, when his marriage ended, and he was out of work for four years. He also lost touch with his grown-up daughters during this time.
He said: "When someone has mental health problems, it can affect every part of your life. I was doing everything for my wife, and the stress finally caught up with me. After my operation, I didn't know what to do. I couldn't work in security any longer with my heart condition – the 16-hour shifts were horrendous."
A new start with Poppyscotland
Fortunately, he learned about Poppyscotland, and was delighted to be offered a job at Lady Haig's Poppy Factory. He now lives in Granton and gets a taxi to work through the Access to Work scheme.
"Poppyscotland has helped so much," he said. "It's all geared towards veterans."
Looking back on his early experience he said: "I'll never forget serving in the Falklands – it will stay with me for the rest of my life. I'm still very close to my former crewmates and we'll be meeting for a reunion later this year."