The 2019 Scottish Poppy Appeal was among our most successful ever, generating more than £2.2 million.
It came after a record year in 2018 when we marked the centenary of the end of the First World War. It demonstrated that the public continue to understand the importance of supporting the Appeal beyond four years of First World War commemorations and provided a strong financial basis for Poppyscotland to withstand the turbulent months that would follow.
Our extensive programme of fundraising that followed the 2019 Poppy Appeal came to a grinding halt in late March with the onset of the Covid-19 pandemic. A concert tour with the Band of the Royal Regiment of Scotland was cancelled, as was our annual Sportive cycling event. Poppyscotland made a successful application to the UK Government's Covid Impact Fund and we were awarded £125,000 to help us to offset the drop in fundraising income caused by the pandemic.
Bud
In March Bud, our new mobile learning resource, was forced off the road for the remainder of the year, having clocked up 10,000 miles while visiting more than 130 different schools and events during its first nine months.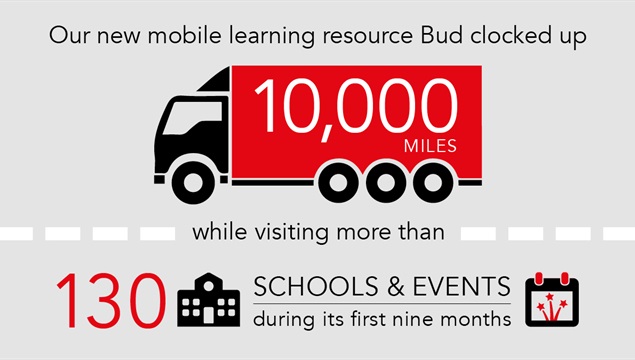 May saw us mark the 75th anniversary of VE Day, the first of three major commemorations in 2020. While the programme of physical events had to be postponed, together with the Scottish Government and Legion Scotland we adapted our plans and delivered virtual commemorations instead.
In June we collaborated with Legion Scotland and RCET, Scotland's Armed Forces Children's Charity, to commemorate the 80th anniversary of the Battle of St Valery. This saw more than 450 pipers from as far afield as Peru and Kathmandu join together in a stunning tribute to the "Forgotten 51st".
Then in August we once again worked with the Scottish Government and Legion Scotland to deliver a fitting programme of virtual commemorations. Despite the limitations forced upon us by the pandemic, all three events reached huge audiences, vastly exceeding our expectations, and arguably engaging more people that we may have otherwise had it not been for the lockdown.

2020 Scottish Poppy Appeal
This was set to be one of the most challenging in its 99-year history with thousands of our volunteers forced to stay at home due to the pandemic.
As well as putting plans in place to ensure the safety of those volunteers who were still able to collect, we have also developed a number of innovative new digital fundraising activities, including contactless donations and a virtual Field of Remembrance. Our direct mail programme continued to grow and is our largest income generator outside the Poppy Appeal.
We are immensely grateful to all the volunteers and donors who have gone the extra mile to support us during this challenging period.
Case Study: Alastair Skene
Alastair works as part of the team of disabled veterans that produce poppies and poppy wreaths at Lady Haig's Poppy Factory. He's a keen supporter of Poppyscotland, having been helped to turn his life around after his army career was ended by medical problems. When the 2020 lockdown started, Alastair decided to use his time at home positively and took on the 2.6 Challenge, set up to help charities whose income was hit by the cancellation of events like the London Marathon. Alastair's marathon 26-hour poppy making session raised an incredible total of £2,800 to support our life-changing work.
Looking ahead to 2021
We are developing exciting plans to mark the centenary of the Scottish Poppy Appeal, which will include Poppy Pledge 2021 following on the success of Poppy Pledge 2018. This will be a major area of focus for the year ahead and presents a significant opportunity for our fundraising income to bounce back as we hope to move beyond the Coronavirus pandemic.
More from our Annual Review