Take our Poppy Cycle Challenge and help raise vital funds for veterans and their families in Scotland.
Your challenge is to cycle between different War Memorials in Scotland. There's an incredible 4,900 to choose from! You set the distance, the pace and the difficulty level. It's your own personal challenge so you can ack up the miles at home, in the gym or anywhere across the country.
Get ready in five easy steps:
Set the route: Decide your distance and starting point, then map out your route incorporating as many War Memorials along the way as you can. Check out our example routes below.

Sign up: Register for the challenge here and one of our Regional Fundraisers will be in touch. They provide support and help you develop your adventure. We'll also send you a Poppyscotland cycling jersey and a fundraising pack.
Get fundraising: Don't forget to set up a fundraising page when you register. The money you raise will make a huge difference to veterans and their families in Scotland.
Get on your bike: Choose whether to cycle close to home, head off for an adventure across Scotland or pump out the miles at the gym.
Share your photos: Don't forget to tag us in on any social media posts using @Poppyscotland and include the hashtags #PoppyCycleChallenge and #BehindThemAlways so we can track your progress and share your news.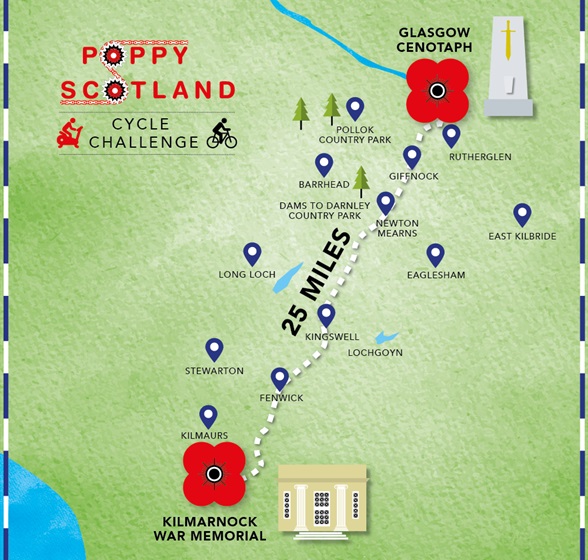 Glasgow to Kilmarnock - 25 miles
The Glasgow Cenotaph in George Square to Kilmarnock War Memoriall is approx. 25 miles.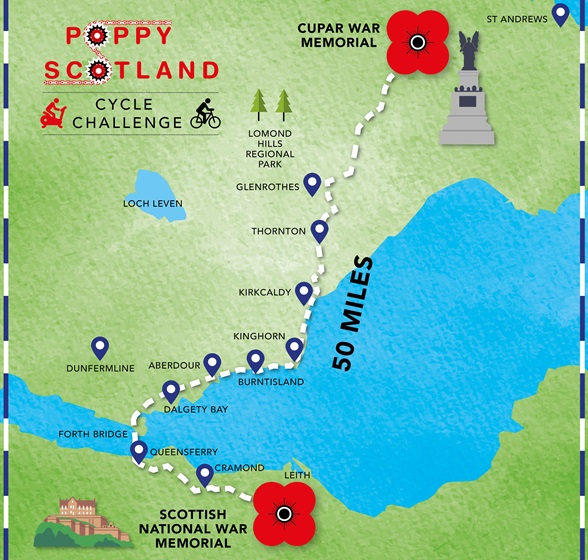 Edinburgh to Cupar - 50 miles
The Scottish National War Memorial at Edinburgh Castle to The Cupar War memorial is approx. 50 miles.
Inverness to Aberdeen - 100 miles
Inverness War memorial to Aberdeen City War Memorial is approx. 100 miles. Route detail coming soon.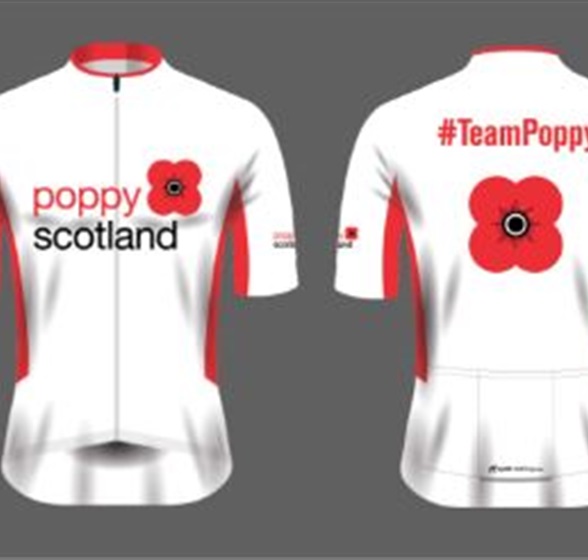 Ready to sign up?
Registration is £35 which entitles you to a Poppyscotland cycling jersey and fundraising pack.

Register now
Road safety
Our routes are advisory only, please check road traffic and weather conditions before taking part. Cyclists take part at their own risk and must stick to the rules of the road at all times.
What do I need to get started?
Step 1: All you need is a bike and you're ready to get the miles in!
Step 2: Get in touch with your local fundraiser who can provide you with a Poppy cycling jersey and a fundraising pack. We can also help you with your routes and some advice to help you with your challenge.

What age do I need to be to take part?
We encourage riders of all ages and standards to take part – the more the merrier!

Why cycle for Poppyscotland?
Help us ensure that the veterans in Scotland living with mental health, employability, housing or poverty problems receive the support they need. The money you raise will be used to provide vital support to members of our Armed Forces community in Scotland, and their families too. It's not just a challenge – it's a journey that you won't forget.
Find out more about how we help.
What do I get when I register?
Your £35 registration fee gets you a Poppyscotland cycling jersey and fundraising pack! We are also here to provide you with fundraising support.
How do I share my photos and images with you?
Use the hashtags
#PoppyCycleChallenge
and
#BehindThemAlways
and don't forget to tag us in using
@Poppyscotland
. Another great way of making sure we see you as you complete your challenge is to email your local fundraiser using
fundraiseforus@poppyscotland.org.uk
. We love sharing stories of supporters who raise vital funds for us, so please keep in touch and let us know your progress.
What is the route?
There is no one route. We are here to help you plan your own. We've created some popular routes below, but if you're looking for something less (or more!) challenging, or a little closer to home, get in touch with us via FundraiseForUs@poppyscotland.org.uk and we can help create your route.
It's not just a challenge – it's a journey you won't forget!