As a teenager looking forward to university, Mark Beverstock didn't expect to be sent to a war zone. Forty years later, the retired Rear Admiral looks back on how this early experience shaped his life and career.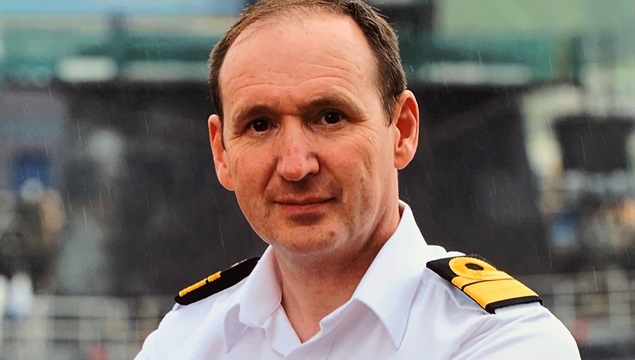 In April 1982, having passed out of the Initial Training at Dartmouth, Mark was on leave before he was due to start studying at the Royal Naval Engineering College in September. He knew the Falklands crisis was developing, but it was only at the last minute that plans changed.
He received a call from the Royal Navy telling him not to join his ship in Portsmouth, but to fly immediately to Gibraltar. They spent a week storing and preparing HMS Ambuscade, a Type 21 Frigate, before setting sail for the South Atlantic.
There was no time to tell his fiancée, Morag, who was planning to meet him at Portsmouth on his return. Instead, she received a call from the Navy to tell them that he was being sent to the Falklands. They managed to exchange letters but wouldn't meet again until July.

Growing up near Paisley, Mark was a keen Scout and planned to join the Royal Air Force. But despite passing the aptitude tests when he left school, they asked him to reapply in a year's time when he was 18, so he joined the Royal Navy instead.
She accepted that was part of my life, but it must have been pretty tough. We had little contact for almost five months. She was sitting glued to the news like everybody else at home.
Preparing for war
As one of two trainee officers on the ship, Mark's role was to "muck in" and help wherever required. Just a few months out of school, Mark had to quickly learn on the job.
He said: "I had no idea what was going to happen. On the way down the situation was developing. We were preparing for war. People were stripping out all the home comforts on the ship. Everything that could catch fire was stripped out.
"When you're young, you divorce yourself from reality. I just focused on the routine on the ship. I was a trained first aider, I kept watches, I just mucked in and helped where it was needed. You learn very quickly in that situation.
"The ship's company was very small, so we got to know each other very well. I shared a cabin with one other officer. We had the same lunch most days – cheese, eggs, and ham. You could have it any way you wanted. The chefs did an outstanding job during the conflict maintaining morale.
"These days everyone is on their phones all the time, but then we had no communication from home. There was the occasional letter that got dropped off, but you didn't have that much contact.
"The day after we sailed from Gibraltar, we heard HMS Sheffield had been hit (and subsequently sunk), and that certainly brought the reality home to us. You're sailing about the ocean on a tin box. You're pretty vulnerable. Most of the service people develop a black sense of humour in this situation."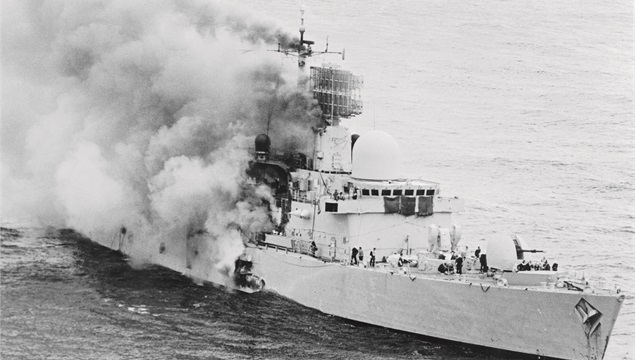 Bomb Alley
HMS Ambuscade joined the British task force patrolling the exclusion zone around the archipelago. Its main role at first was to protect the "high value assets", escort ships into San Carlos, and provide Naval gunfire Support, normally under the cover of darkness.
Mark remembers: "The first phase was to land the task force ashore. We called San Carlos 'Bomb Alley' and our role was to escort the ships in. There were threats from Argentinian submarines that you had to ward off, and we were constantly on the lookout for airborne attacks.
"Mostly the ship ran to its own routine. You were on watch, sleeping, eating, running drills. Even when you were off duty, you were always on edge. We just had to get on with it and concentrate on the routine.
"There were a number of attacks on the task force, and the Ambuscade got heavily involved. You didn't get much warning, you had to be alert all the time. On 25 May the ship was up threat in the task force screen and was first to detect a couple of Exocet missiles on radar which went on to hit the Atlantic Conveyor."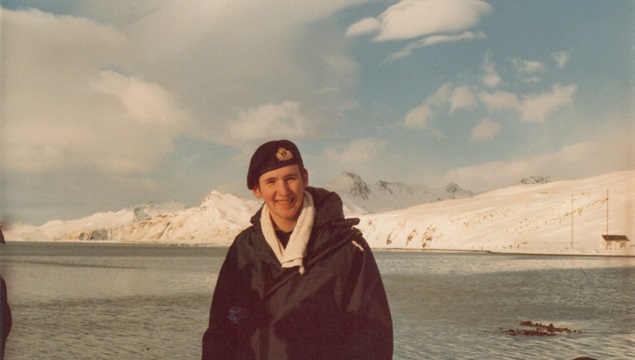 The final battle
As the war progressed, the British troops advanced towards Port Stanley. HMS Ambuscade provided naval gun fire support to the troops on the shore.
Mark said: "We saw Port Stanley from 10km away – we never set foot in the Falklands – supporting the troops on shore calling in the naval gunfire support. At night we would see where we were firing the shells, and the explosions off Port Stanley. The Argentinians were firing back at us. You could see the shells in the water around us. We just had to have confidence that we knew their range was shorter and they wouldn't be able to hit us."
On June 15th they learned that the Argentinians had surrendered, and Britain declared victory. But Mark had mixed feelings at the end of the conflict. He said: "When they surrendered there was a feeling of euphoria. But it preys on your mind that a lot of people were killed. We had lost some of our ships, and there were many more casualties among the land forces. Ultimately, there was still lots to be done to try and negotiate the removal of Argentinian forces from the island.
"After the war was over, we went to South Georgia to drop off the Scots Guards and pick up 42 Commando to take them home. We got the chance to go ashore at the old whaling stating in Gritvyken. We saw the Santa Fe, an Argentinian submarine that had been disabled earlier in the conflict.
"I was very young, but this experience made me grow up very quickly. There were key events that I'll always remember."

Returning home
In July 1982, Mark finally arrived home for a brief period of leave before starting at the Royal Naval Engineering College Manadon.
"Coming back into Plymouth was a big event and Morag was there when we arrived alongside. Being reunited was a very memorable moment," he said.

Mark remembers the feeling of relief of being back on land, where things "don't move around all the time". This was just one reason that inspired him to join the Royal Navy Submarine Service when he graduated three years later, specialising as a Submarine Weapons Engineer.
He went on to serve 37 years in the Royal Navy, being promoted through the ranks to Rear Admiral. He now works for the Civil Service, leading the Naval Ships Delivery Group responsible for the builds of Type 26 and Type 31 Frigates.
Mark is settled in Kilmacolm, near Glasgow, with his wife, Morag, a practice nurse. They have three grown-up children.
Mark says his early experience in the Falklands has shaped his life in different ways. He is acutely aware of the importance of ships' construction and their capability, particularly their self-protection. He is also passionate about supporting veterans, especially those who have served in conflicts. This led him to take on the role of President of Poppyscotland and Legion Scotland in 2022.
He said: "The importance of volunteering has been ingrained in me since I was in the Scouts. Over the years, the veterans' community has changed. We need to work hard to be inclusive of the whole community as well as rebuild a sense of comradeship and collective remembrance as the world emerges from the Covid pandemic."