Theresa Davidson was just 25 when she lost her husband, Clark Mitchell, on the final day of the Falklands conflict.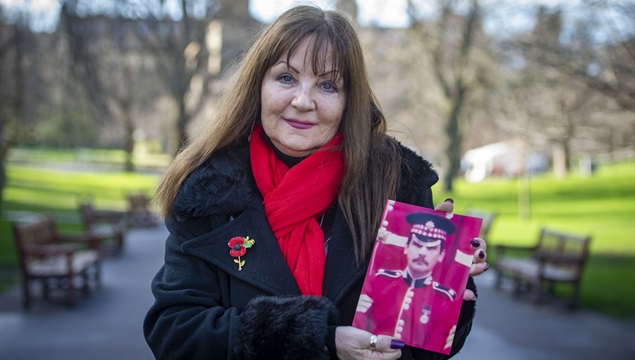 Four decades later, she says it still feels like yesterday, as she remembers her devastation and the slow journey to rebuild her life. Closing her eyes, Theresa can still picture the quarters she shared with Clark, a young Lance Sergeant in the 2nd Battalion Scots Guards, in Lasswade, Midlothan.
The morning after Margaret Thatcher declared victory, she was sitting in their living room. Despite the national mood of celebration, she couldn't shake a growing feeling of unease and had barely slept the night before.
When she answered the doorbell to see an officer and his wife standing there, she didn't have to wait for them to speak. "Please tell me he's just been wounded," she remembers saying. The officer shook his head.
Theresa, aged 25, felt her whole life collapsing before her. "I lost everything," she said. "I lost my husband, my best friend, our home, the family we wanted together. My world shattered into a million pieces."
Clark, 26, from Laurencekirk, Aberdeenshire, was killed on Mount Tumbledown in the early hours of June 14th, the day the Argentinians surrendered. He was one of eight members of the Scots Guards who died that day, and 255 British servicemen who lost their lives in the 10-week conflict between April and June 1982.
Paying tribute
For years, Theresa found his death too painful to speak about, as she slowly tried to rebuild her life. But now, approaching the 40th anniversary, she wants to share her memories of her "brave and wonderful" husband.
"He was just a lovely, lovely, man, a true gentleman. He was caring and gentle and incredibly loyal. He was respected by everyone who knew him. To me it's about keeping his memory alive, and remembering Clark as a person, as well as a soldier."
Theresa, née Manning, grew up in Glasgow and joined the Women's Royal Army Corps at the age of 17. A month later, she met Clark, an 18-year-old junior soldier while training at Guildford, Surrey, in 1974.
One of six children, Clark, had been an Army Cadet as a boy, before joining the Scots Guards when he turned 16. The pair hit it off straight away and were married in Glasgow the following year.
Theresa left the Army to join Clark on a posting in Germany, where they had the "most amazing time". "We were absolutely in love with each other," she said. "I was terrified when Clark had to do two tours in Northern Ireland. But he always managed to come back for our anniversary."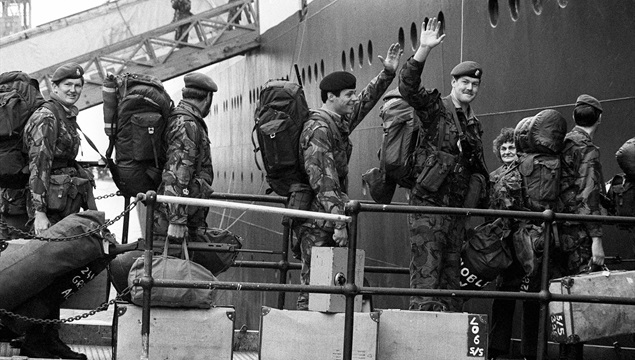 Sent to the Falklands
In 1982, Theresa and Clark, now a Lance Sergeant Right Flank, returned to Scotland and hoped to realise their dream of starting a family. But then they received the news that Clark was being recalled to his battalion to set sail for the Falklands. Theresa said: "Nobody knew anything about the Falklands. We thought they were little islands up in the north of Scotland. It was only when we saw the map we realised they were 8000 miles away. I can still see him walking away, with his head lowered. I thought it would all be over by the time he got there."
Clark sailed on May 12th on the QE2. After he left, Theresa tried to keep herself busy. She went to visit a friend in London, attending a briefing for family members in the Sergeants' Mess, although the information was "very hush-hush".
The couple kept in touch by letter, but these arrived sporadically. As the weeks passed, Theresa's anxiety increased. "I had this dreadful, dreadful fear," she said. "I lived for the news. I watched everything, from morning till night."
The ceasefire
Theresa clearly remembers the day of the ceasefire on June 14th. She said: "Margaret Thatcher came out of Downing Street in the early hours of the morning to say that Argentina had surrendered and the war was over. There were all these people at Downing Street singing Rule Britannia. She was shaking hands with people. I was in my quarters, singing Rule Britannia too. I was so happy and thought: 'Thank God the war is over'."
"But then it was like something had hit me. I spent the whole of that night hugging his bearskin, praying he was alright. The next day I was meant to have some of the wives coming round from the recruiting team. But they called to cancel because another one of the Guardsmen had been killed. I went round to my neighbour, and I said I knew something had happened to Clark. Then I just sat in my living room, waiting. It was like a sixth sense."
When the officer and his wife came to her door to break the news, she said: "The world just fell apart. He asked if there was anyone who could come to be with me. My neighbour came round, and my parents got a taxi through from Glasgow. But I don't remember anything of it – after that it was just blank."
Life after loss
Theresa went to stay with Clark's parents in Laurencekirk, who were also heartbroken over their loss. In November, his body was brought home to be buried there. She said: "For months I didn't sleep. I lost weight, my hair was falling out. I was just a lost soul. I didn't want to live – he was my world."
She remembers the Scots Guards were "absolutely amazing", with many of Clark's battalion coming to visit her. But she felt resentment towards the Government, Argentina, and even the people of the Falklands for taking Clark away from her.
She pays tribute to her husband: "Clark was so gentle, kind and caring. He was very loyal, a wonderful husband and my best friend. We desperately wanted children, and he would have been a wonderful father. "He was quiet and shy until you got to know him, but he had a great sense of humour and a real zest for life. Music was his great passion, and he also loved photography, traveling, food, and socialising.
"He also an extremely good soldier. He was respected by all the guys who knew him, and always helped the younger Guardsmen under him. He was given a mention in dispatches for his bravery and battle skills. He saved the lives of several other men, as he took out a sniper while they were under fire. One of his fellow Guardsmen even named his son after him."
Rejoining the Army
In early 1983, Theresa realised she had to start trying to rebuild her life. Following a suggestion from Clark's parents, she made the decision to join the Army again. She also got in touch with Ian Davidson, a close friend of Clark's, who had trained as a junior soldier with him and served in the Falklands, describing him as "the big brother" she never had.
As time passed, their feelings towards each other began to change. In 1985, Theresa and Ian were married. They have a son, Iain (CORR), now 36, and a granddaughter, and they live with their two foster daughters in Glenrothes, Fife.
But Theresa's loss, as well as Ian's own experiences in the Falklands, have taken a heavy toll on them. Theresa said: "Losing Clark changed me. I was depressed for years afterward. I used to have a sense of humour, but it made me much more serious. Years later, if anything came on TV about the Falklands I would just be sobbing."
Revisiting the Falklands
"On the 25th anniversary of the conflict, Ian said to me: 'Let's go to the Falklands together.'" Theresa said. "It was difficult, and I thought I couldn't go through with it. But it was the best thing I could have done.
"We walked the route that Clark would have taken and tried to find out where he fell. I kept being drawn to this big rock. I sat on it, staring up at Mount Tumbledown. I thought, why weren't they all massacred? Going up it in those conditions, with the Argentinians at the top, dug in. I think it was a miracle. I take my hat off to all those men who fought that battle.
"The island itself is quite barren, but remotely beautiful. The people of the Falklands were so lovely and couldn't have made us more welcome. I saw how grateful they were for everything that was done. I now feel it was the right thing to do. "Going there helped me put to rest a lot of my ghosts."
Theresa and Ian now regularly join other Falklands veterans and their families in the South Atlantic Medal Association. Last year, they laid a memorial stone in Blackpool to remember the fallen. She said: "I will never forget him, and the sacrifices he and the other men made. I don't have long left on this earth now, but I want to keep Clark's memory alive."