Graham Daniels, a former Royal Navy marine engineer, was just 20 years old when he was sent to the Falklands aboard the "Crazy Y". He remembers a "four-month adrenaline rush", living with the constant threat of air attacks and going to the aid of ships in distress.
As a young boy, Graham Daniels was fascinated by his uncle's stories of serving in the Far East in the Royal Navy during the Second World War. His father was a Royal Marine, so the military was always part of his life. Graham joined the Sea Cadets aged 12, and then walked into a Royal Navy recruiting office shortly before he turned 16.
He said: "My Uncle Bernard told me of all the places he'd visited, and it sounds like a big adventure. He was a big influence on me. My mum also didn't want me to join the Army, as she was worried about them being posted to Northern Ireland at the time.
"I passed all the tests and joined up when I was 16. I have no regrets about it."
Graham's first posting was on the brand-new HMS Coventry. As the youngest rating, he was tasked with cutting the commissioning cake at the launching ceremony with the Skipper's wife.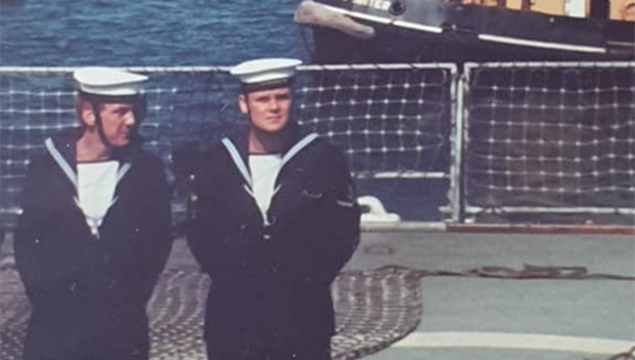 Heading for the Falklands
On board HMS Yarmouth in Spring 1982, Graham and his crewmates had just completed a Royal Navy training exercise off the coast of Gibraltar. They were looking forward to their next posting, on Gulf Patrol in the Far East.
But the Falklands crisis was brewing, and they were soon told of a change of plan.
Graham, then a marine engineer, said: "We were very disappointed when we were told to head to Ascension Island instead. We thought it was all going to be sorted out by the politicians by the time we got there.
"I think it was only when the Belgrano was sunk that it all hit home. Then we thought 'Crikey, this is real.'"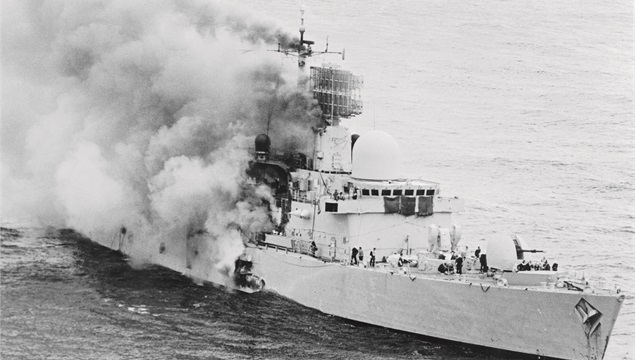 Towing HMS Sheffield
Shortly after they arrived in the Falklands, HMS Sheffield was hit and badly damaged by an Argentinian Exocet missile. One of Graham's most vivid memories of this time is going to pick up the ship after she had been abandoned by survivors.
He said: "I remember going up to HMS Sheffield under the cover of darkness and seeing it looming up, a burned-out shell. Normally a Royal Navy warship is buzzing, and full of noise from machinery and all the people on board. But there was no noise, it was just floating in the water, like a ghost ship. It was very eery and upsetting . I couldn't get that image out of my head.
"They wanted me to go on board to make sure the rudders were straight. I wasn't looking forward to that, as there were still dead bodies on board. I was glad I didn't have to go in the end.
"As we towed her, there was the threat of Argentinian air attacks. We planned to take her into the safer waters of South Georgia for repairs, but she sank. The hole in her side was that big and she took in too much water.
"The lads took an axe to her towing rope so she wouldn't drag us down too. Then we had to circle for 24 hours to make sure she had sunk properly. The smell of diesel was so strong that we had shut off all our fans."
The "Crazy Y"
HMS Yarmouth spent almost two weeks in San Carlos, nicknamed "Bomb Alley", providing a protective escort to the Task Force. When HMS Ardent was hit by Argentinian Skyhawks, they rescued crew members and transferred them to SS Canberra.
Graham said: "Every day we were under air attack. It was constant, and terrifying. We would work six hours on, six hours off. We'd be on action stations, dressed in our fire-fighting kit in case we got hit, ready to put any fires out.
"I think we were the only ship that never got hit by Argentinian gunfire. One day we were under attack in San Carlos, and we stormed down with all guns blazing. They nicknamed us the 'Crazy Y'. I think we were very, very lucky.
"The whole crew were amazing. We were very close-knit, and I'm still in touch with quite a few of them."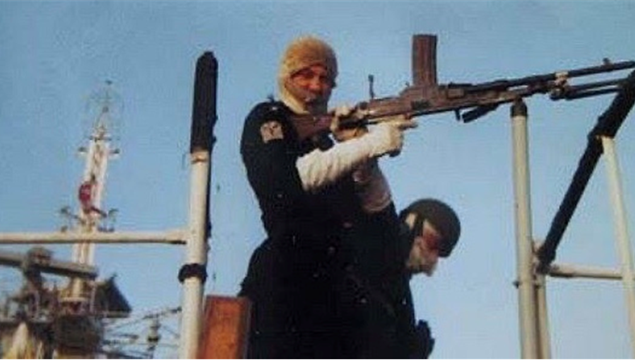 Daily life
Life on board could be exhausting, with crew members snatching a few hours sleep or a bite to eat when they could. Some days, they would be at "action stations" or on watch for 18 or 19 hours at a stretch.
Graham said: "We used to sleep fully clothed, in our overalls in a bunk with a gas mask next to you.
"We had better food that the lads on shore. It was a case of grabbing something when you could, but we never went hungry. We ate a lot of sandwiches and 'action snacks' while we were at action stations.
"We would write Blueys (airmail letters) to family at home. My mum got together with some other local mums to send Red Cross parcels out to us. They'd send sweets, music cassettes, newspapers (very out-of-date of course!) – anything to keep morale up. Afterwards, they got a nice letter from Prince Charles thanking them for their efforts.
"I was only 20 years old at the time, and at that age you think you're invincible. You never think it's going to happen to you. But I do remember thinking: 'If my time's up, I hope it's going to be quick. I don't want to suffer.'"
The end of the conflict
As British troops advanced towards Mount Tumbledown, HMS Yarmouth provided naval gunfire support, shelling Argentinian positions on shore. Then finally, the crew received the news of the ceasefire on June 14th.
Graham said: "I felt relief and elation, mainly because my parents wouldn't be worrying anymore. But there was also sadness, because so many had died. A few weeks later, I felt even more sadness when I found out that a lad I went to Sea Cadets with, a Royal Marine, had been killed."
After that, her final task was to sail south to Southern Thule, re-taking the Sandwich Islands. Then finally, the Crazy Y was one of the last ships of the initial task force to be sent home.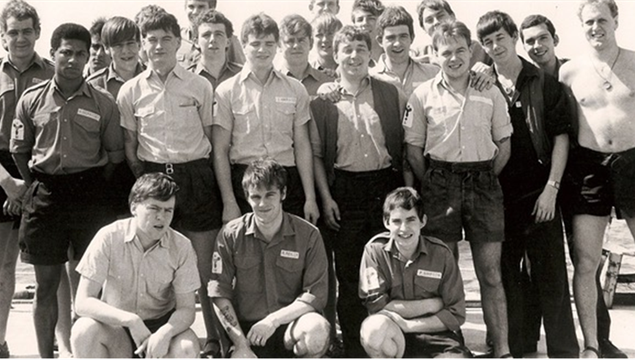 Returning home
The return journey was much more relaxed, with time to enjoy barbecues with a few drinks on board. They celebrated the crossing of the line ceremony on the way back – something they had not been able to do on the way down.
Graham remembers stopping at Ascension Island on the way. He said: "We were allowed to make one phone call home. I called my mum on the satellite phone and had the privilege of paying £5 for that!"
He describes the return to Rosyth as "amazing". He said: "We sailed under the Forth bridges and the trains had stopped on the rail bridge so the passengers could wave to us. The road bridge was rammed with people and as we sailed under they were throwing flowers down onto the ship. We were told later that the police had closed the bridge as they were worried about the amount of people and cars on it.
"The jetty was full of all the ships' companies' relatives with banners welcoming us home. It was very emotional. My family had travelled up in a minibus from South Yorkshire with another family. When we were back home, they put on a big street party for us – something I will remember always. I suppose it was my 15 minutes of fame!"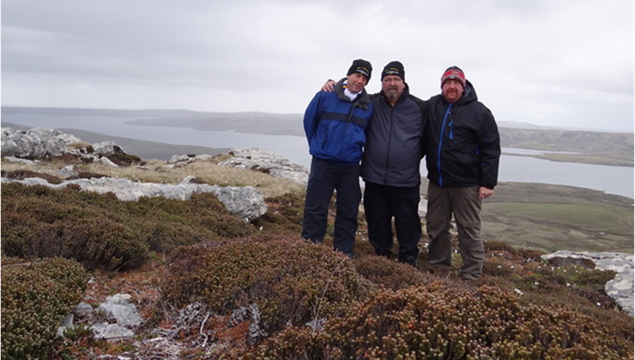 An anti-climax
Graham went on to serve another two years in the Royal Navy.
He said: "After the Falklands, everything seemed like an anti-climax. We had four months of a massive adrenaline rush. As long as you did your job nobody cared if your hair was long, or your shoes weren't polished.
"After a couple of years, I decided to leave. I wanted to do something exciting, and didn't fancy a desk job, so I joined the Fire Service."
Graham worked as a firefighter for 29 years, before retiring. He and his wife now live on a narrowboat and spend their time traveling round the UK. They have two grown-up children.
In 2016, he returned to the Falklands with other veterans, meeting the Governor and many of the local people. They visited San Carlos and laid a wreath on the HMS Ardent memorial overlooking the bay.
He said: "It was good to go back and see how they are living now. I think it buried a few ghosts for me. The locals were fantastic – they were so welcoming and couldn't do enough for us. The scenery and wildlife were amazing, and I wished we could have stayed longer."
He is looking forward to reuniting with former crewmates in Edinburgh in June to mark the 40th anniversary of the conflict.
He added: "I was and still am immensely proud to have served on such a brilliant busy little ship with an incredible crew."