Approximately three million poppies, 10,000 wreaths, thousands of wreath badges, 60,000 Remembrance symbols, 40,000 long stem poppies and other Remembrance items are made each year at Lady Haig's Poppy Factory.
That's a lot of cutting, pressing, mounting and shaping. But how exactly is it all done?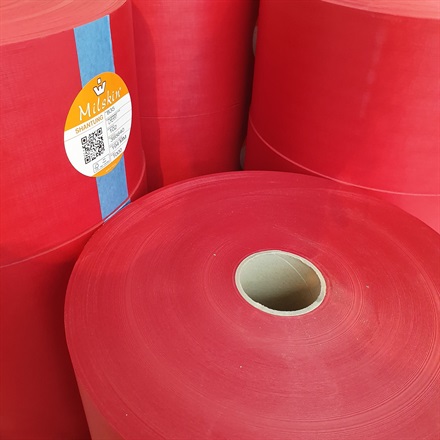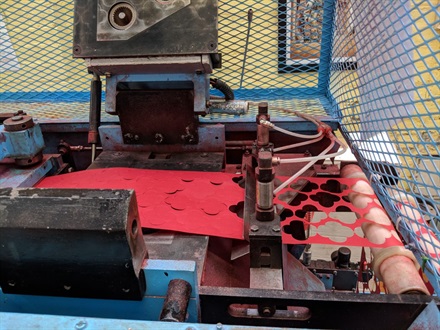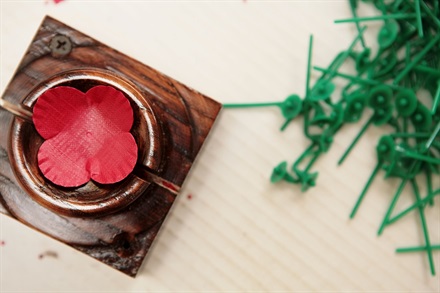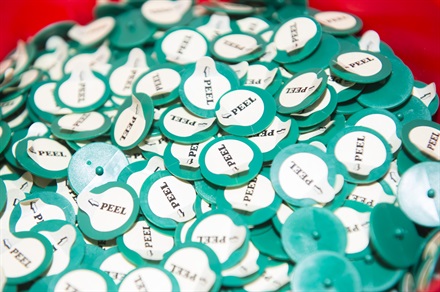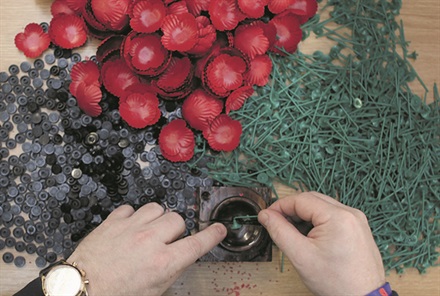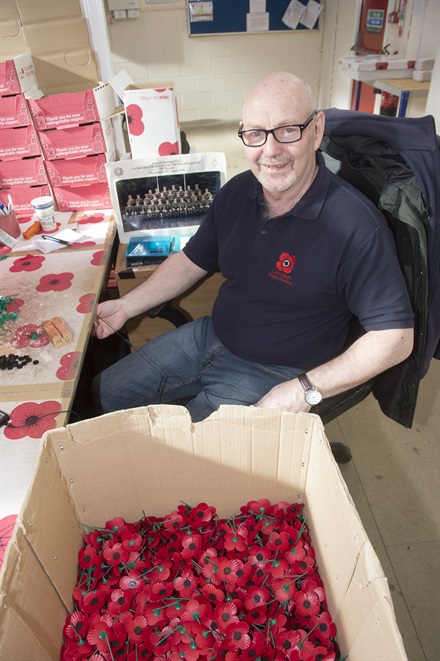 Lapel poppies and stick-on poppies
These poppies all start when large paper rolls arrive at the factory. The paper is passed through the cutting and pressing machine that cuts the poppy petals to size, presses them into shape and adds the distinctive ribbing.
The shaped petals are then passed to the team of poppy makers who turn them either into lapel poppies or stick-on poppies.
If a lapel poppy is needed, a green plastic stem is placed into a mounting holder and the shaped petal is placed onto the end of the stem. A black plastic centre is added to complete the poppy and to hold everything in place.

For stick-on poppies, an adhesive sticker is added to the back of a plastic base - no stems in this case - before the shaped petals are placed on it and finished with a black plastic centre.
Long-stemmed poppies
These start with large rolls too - red silk rolls, not paper - but the process is very similar.
The silk is passed through the cutting machine where petals are cut to size then placed in the crimper which gives them their distinctive ribbing.
The completed silk poppies are then transferred to the Wreath Department where wire stems are attached and wrapped in green recycled plastic to complete the look.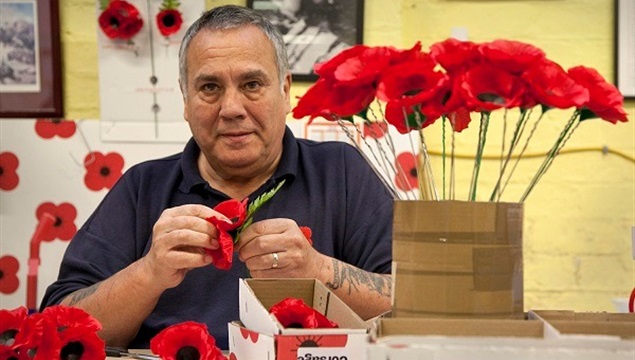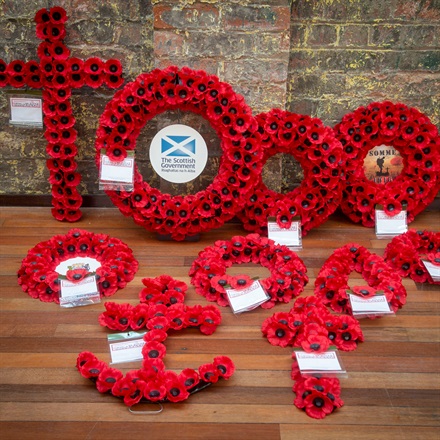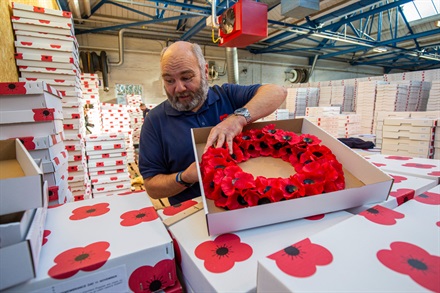 Wreaths
There are eight wreath shapes available as standard and these arrive at the factory pre-fabricated. Custom wreaths can sometimes be made as a special order and these frames are made by hand in the factory.
Bespoke wreath centres are popular and are made by our own designers in the factory using computer design software. Customers send us their logos, and any other specific design details, and we create personalised badges that are fitted to the centre of the wreath.
Wreath shop
The Tin Room
Although not made by the factory, the Poppy Appeal collecting tins still require maintenance and that is an important part of what happens in the factory.
Between 25,000 and 30,000 collection tins are distributed around Remembrance time. Once their job is done, they are sent back to the factory where they are cleaned, re-labelled and re-strung ready for distribution the following year. With so many tins to care for, this process can take months to complete.
Remembrance symbols
Our Remembrance symbols are 7″ in height and made from plywood. Choose from a Remembrance Cross, Crescent Moon, Humanist, Star of David, Khanda, and Om.
In the same way that we make bespoke centres for our wreaths, we can make bespoke badges for some of our Remembrance symbols.